My second 100 mile of the year was the Centurion Running Autumn 100 in Goring. The race is 4 x 25 mile legs, 2 along the Thames Path and 2 along the Ridgeway. I usually enter races to test me in different ways. The A100 was supposed to test if I could push myself a bit faster over a more runnable course but with the weather we'd it became about seeing how I cope with a 100 miles of rain and mud as well. This was my 9th ultra race but my first properly wet one.
It had not been an easy build up with the training as I picked up an ankle injury after the Jurassic Coast 100. This had led me to missing a couple of races the big one being the Ridgeway Challange 86. The injury was a bit strange to start with. I had a planned two weeks off running after the Jurassic Coast 100. The aches and pains had gone a few days after and all appeared good. I started core and balance work again after a week but noticed my right leg balance was poor (well poorer than normal, Michelle has described me as "unbalanced"..). I didn't pay it much attention at the time but when I started running the right ankle started to ache after a few Km, particularly so when everted. This repeated itself in subsequent runs at which point the Google self diagnosis of peroneal tendonitis was made. This was a little scary as just about every article said the dreaded for letter word…… R-E-S-T. It was clear I needed professional help.
Michelle told me the person to see would be Jane Clarke at Pickwick Physiotherapy . To quote the coach "She says it how it is, so if it's ok to run on she will tell you and conversely if it's not she will not beat around the bush". This is just what a committed runner needs, someone with the knowledge of the injury but also the understanding of how a runner thinks. Jane got me in quickly and confirmed my self diagnosis but instead of the doom and gloom of Google I was given a confident positivity that the issue could be resolved and that I should still be able to get my Autumn 100 mile race in. I was given a set of rehab exercises but also a guide to understanding the pain. If I worked within certain pain bands I would recover as well as being still able to train.
Jane was so confident that she thought I may not even need another session. I booked in for one anyway a month later after she and I had both returned from our holidays. The great news was she was right. Although not fully healed there was enough improvement by then that I could cancel my appointment.
Thanks to an adapted training plan from Michelle I managed to put in a good training block so the fitness was good and the ankle was under control. It was still occasionally achy and I was not fully confident ahead of the race. I'd had a couple of 40ish Km runs where the ankle had behaved and been good for back to back runs the next day but I'd also had some runs where it wasn't great.
The Centurion Autumn 100 was always going to be very different to the earlier Jurassic Coast 100. The idea was for it to be a challenge of how fast I could run 100 miles as under reasonable conditions the A100 is a fast runnable course. With a couple of weeks rain and torrential rain on the day conditions were far from ideal!
My original goal was to run sub-19 hours and finish in the top 20 (from 300) and be competitive in the male 50+ category. A week out it was clear it was going to be a little muddy so my coach Michelle from Maxwell Coaching put together a pace plan that had a target of 19:15. The race is made up of 4 different legs. Two flat along the Thames Path and two hillier along the Ridgeway. Michelle put me down for 4:05 for the first leg. I've always gone out slow in ultras and slowly moved through the field but Michelle had studied the previous results and it showed that's what I needed to do. In the event I set off on the second leg in 4:04. Michelle has had other runners do the A100 on wet days and knew that leg 4 would be particularly poor under foot so gave me a generous 5:55 in the end I got round that in 5:47, that's despite the organisers having to add 2Km to avoid an unsay bridge. It was a masterly pace sheet from Michelle and it was only leg 3 that I was off the pace on. I know that leg very well from training and previous races and it should have been quite fast despite the hills but the night time torrential rain had resulted in a lot of deep puddles and mud for about 20Km, this was very hard at night.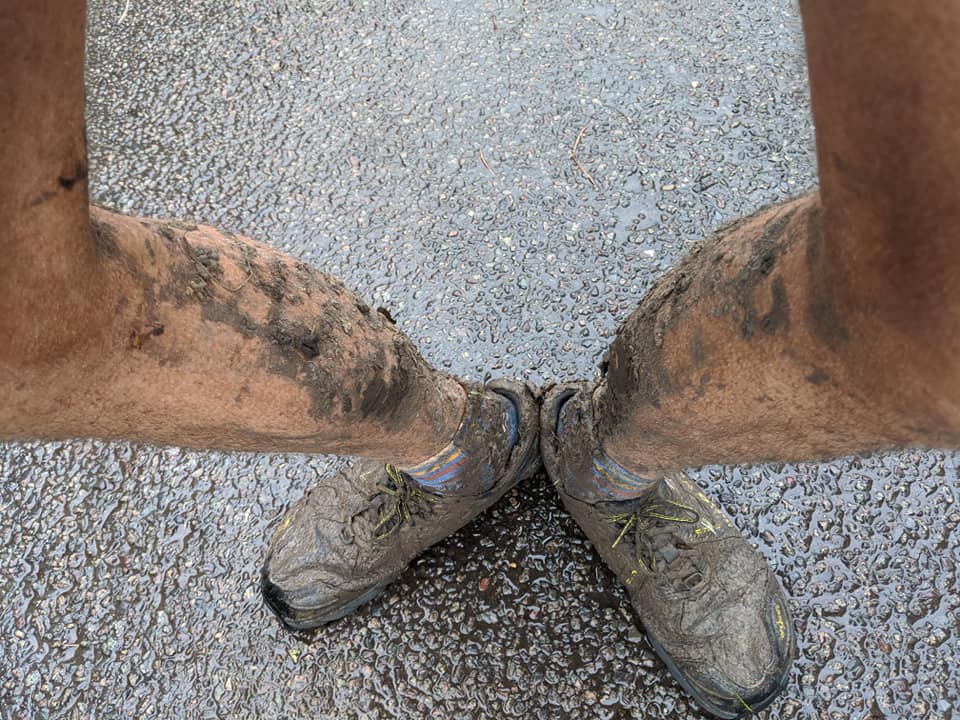 I finished in 19:47:23, 17th overall and 2nd Male 50. What was really satisfying is knowing I really could not have run the race in the conditions any better. I'm very pleased ?. The attached break down of the race shows how I moved steadily through the field from 55th at the first checkpoint to 17th at the finish.

In my post before the race I mentioned my summer ankle injury. I'm really happy to say that the ankle was fine all day (everything else hurts though!). I really did throw myself at the ankle rehab exercises from Jane Clarke at Pickwick Physiotherapy. This has resulted not only in managing my injury but also giving me much stronger ankles. This was a major benefit in the race as I was able to run off the trails on the grassy and uneven edges with confidence for the full 100 miles.
The big satisfaction of Newport back in May wasn't really that I hit my target, it was more that I think I ran just about the prefect race on the day. I don't think I could have gone faster under the conditions. This race was oh so close to being as perfect as that. I think under the conditions I could not have run any better. Where I think I did lose the time was in the checkpoints. I did manage them better than I have done and I did put a lot of thought into my drop bag but I still reckon I wasted about 10 minutes or so overall, mostly at the midway Goring stop. The brain just went a little fuzzy. But 10 minutes over about 20 hours isn't bad. All in all I'm massively pleased with the performance.
That was my first Centurion Racing event and they lived up to the hype. Great organisation backed up by fantastic volunteers.
Check out my activity on Strava: https://strava.app.link/Q4UjJsJGK0