Back in 2018 when I made one of my early visits to a Chippenham Harriers club night there was the usual "Shout Out" where the Harriers race exploits from the previous weekend were called out. On this particular evening the exploits of Mark Barnett winning the previous weekends Beyond the Far Side 12 Hour were proclaimed. I chatted to Mark about this after, he only needed to run for 10 hours as he was over two laps up on his nearest rival which was a massive relief to him due to the unrelenting grimness of the rain, mud and hills. He talked of psyching out the opposition early on with talks of fast 10Ks. Something about this event appealed to me. I thought about it for 2019 but I was too focused on Newport Marathon so it wasn't going to happen. John Howard (2nd) and Frank Wainwright (4th) ended up doing it that year and from the photo's (particularly of John, see below!) it was maintaining it's grim reputation.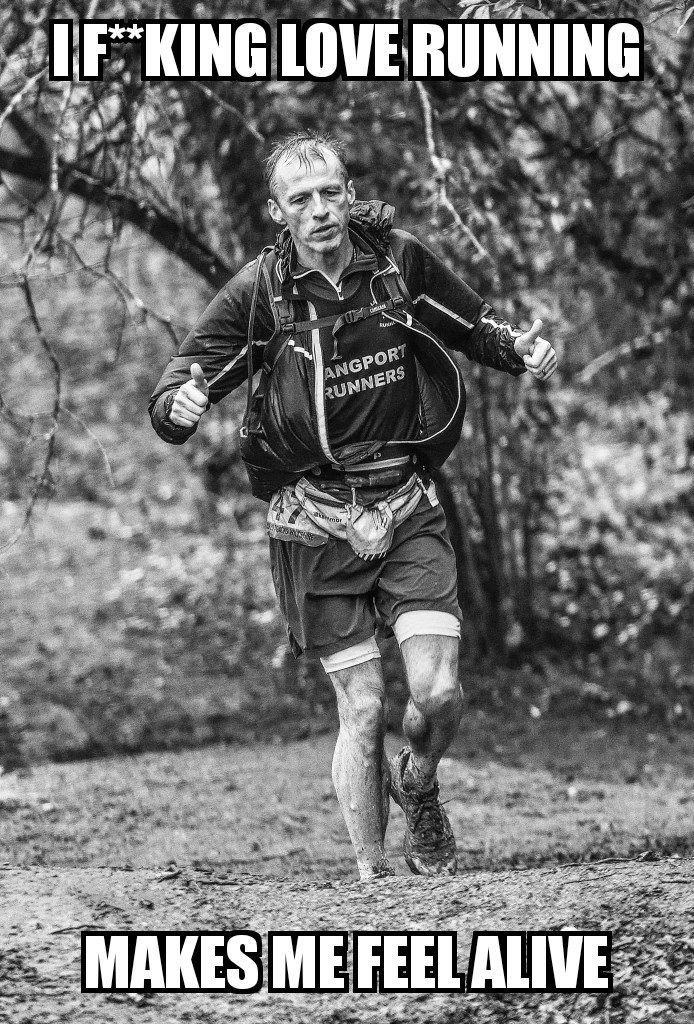 Back last summer I was planning my races for this year. At that point I'd run 8 Ultras all in the summer and generally in very warm conditions. I was worried about how I'd cope with really grim conditions if I encountered them. How could I cope running for 24 hours or so in the mud and rain? I was fine when the weather was good. It seemed logical (at the time) to enter a winter 24 hour on a course I knew would be hilly and muddy. I entered the Beyond The Far Side 2020 race as this matched the brief perfectly. Everyone I know who'd entered the 12 hour version of the race said how grim that was, so the 24 hour version had to be perfect…..
Since I entered the race I'd done two more ultras both of which have been wet and muddy….. The Autumn 100 was 102 miles of mud and rain. I'd now had my grim experience and I'd spent the last few weeks running in the dark, mud and rain so I really didn't need any more grimness but I'd entered it and there was no turning back. The build up to then even had been tough. Michelle had given me a good little recovery after the Beacons Ultra but after that the training ramped up massively in December. I did 115Km Christmas week and 140Km the week after. Nearly all these kilometres were off road in the mud and quite a few of those in the dark. 2 to 3 hours round Castle Combe before work is dedication! This winter has been very wet and it feels like it's not stopped raining from October. I ended up recce'ing the course 6 times in December and January building up to 6 laps. In that time I became an absolute expert on the different types of mud. The result has been incredible mud I realised I needed some more mud oriented shoes and I ended up going with Inov8 Mudclaw G260s. With a month to go switching shoes was risky. More so as the Mudclaws have almost no cushioning, just about all it has comes from the 8mm studs. More on these later!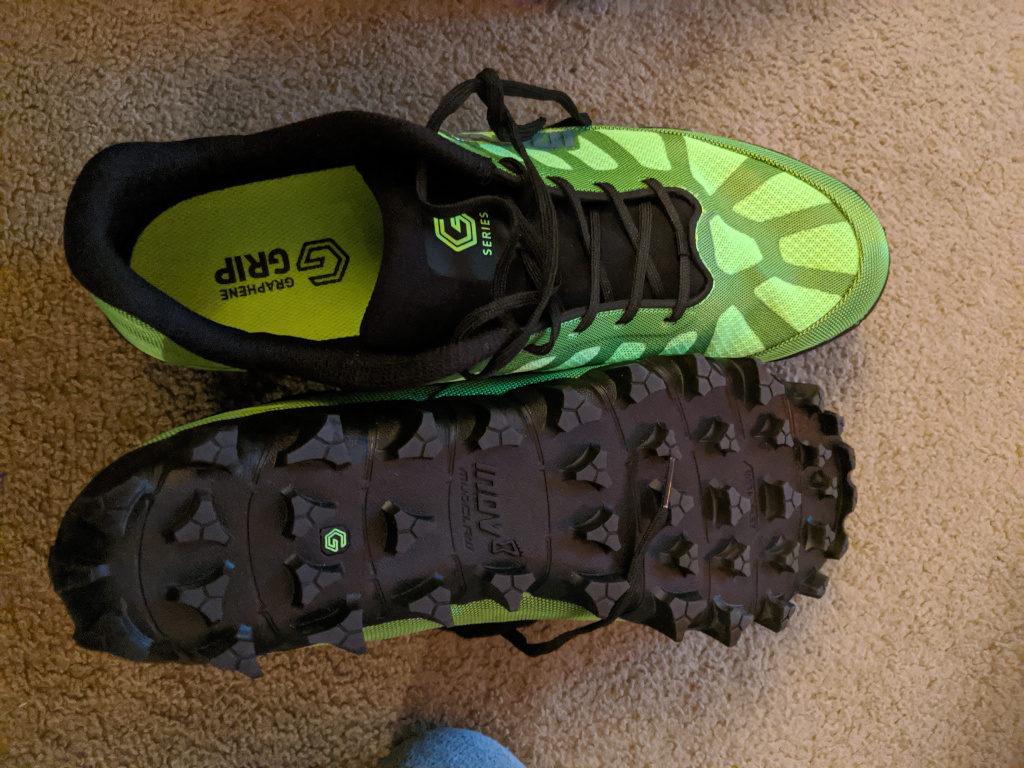 I spent the week before sorting out the kit for all eventualities. I'd learnt a lot from the Cotswold 24 in 2018 about how much time could be lost each lap with picking up food and drinks so everything was planned with food bagged up for every 4 laps. This can be seen on the right hand side of the flat lay below.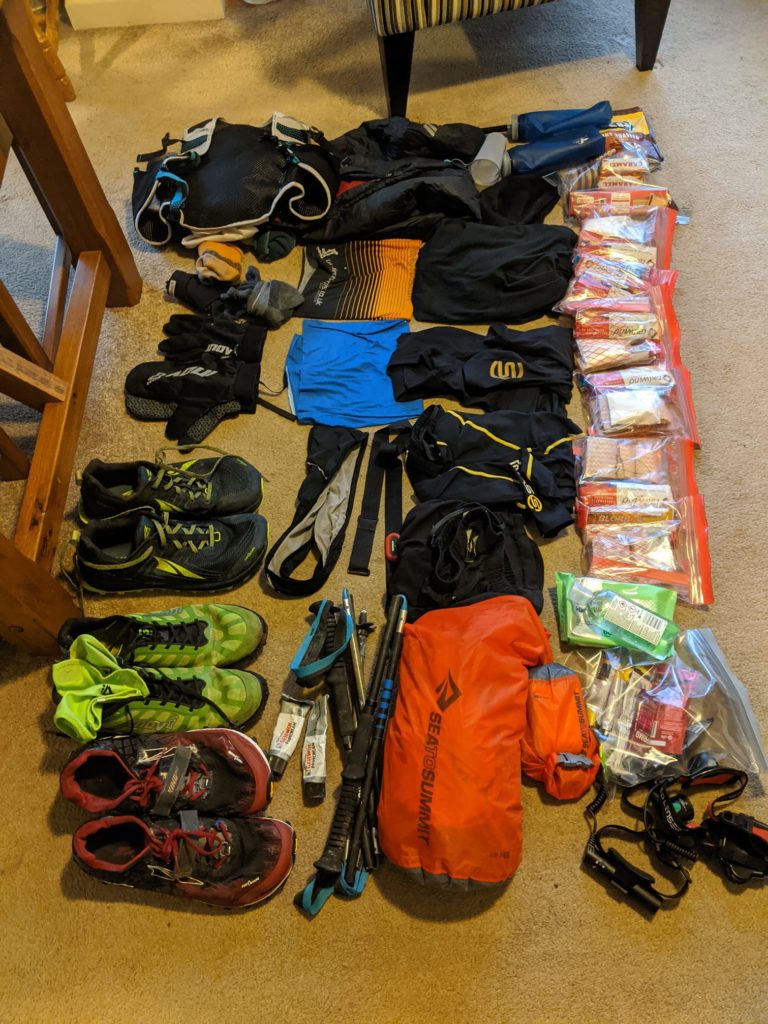 Race day came and I was reasonably relaxed. With an 8pm start I decided to take the day off to try and get some sleep in the afternoon. I got 3 or so hours in which helped. With all the preparation I put in I made one big mistake….. I knew parking wasn't at the race HQ so I took the postcode and and stuck it into the satnav. Unfortunately I put in the postcode of the race HQ with the satnav taking me to so mad country lane no where near where I was supposed to. I ended up at the car park in the rain with just 30 mins to go and no money to pay for the parking! Luckily a fellow runner Kevin was my hero and paid for the parking. I got to the race with 20 mins to go meeting Frank Wainwright who was an invaluable calming influence. That being said my hands were shaking putting the number on!
It's always a little difficult to get the pace sorted early on in a long race and it took me about 4 of the 8.5Km laps to dial in to the feeling of the target 75mins per lap pace. At 4 laps in I took my first food and comfort (?) break for 5 mins then headed out again. I came in after the next lap to find I was in the lead! That was a shock. It was a cold night but the ice actually made the going a little faster and boy were the stars beautiful! Up on the hills there's very little light pollution and the sky was stunning!
At 7am the other races started. The weekend had a 10Km, 6 hour and 12 hour as well. The downside of this was that the mud became way more churned up, with tiring legs this was incredibly hard work.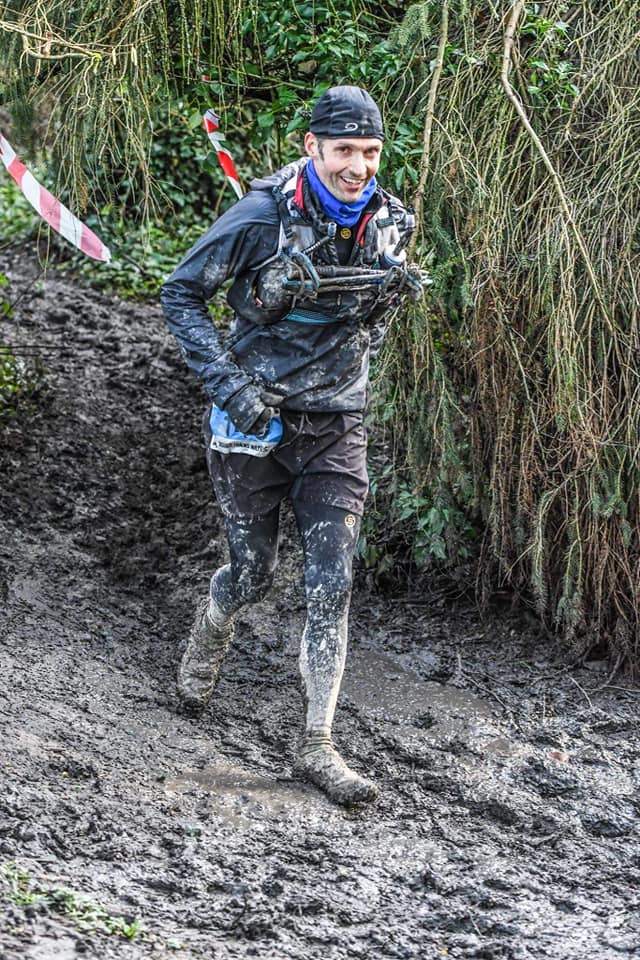 The daylight hours were surprisingly harder than the night ones. As the light started to dim the leader of the 12 hour race came passed me moving really well. We had a quick chat and he told me that I'd done 10 laps in the first 12 hours (in the dark!) which would have been enough to win the 12 hour race.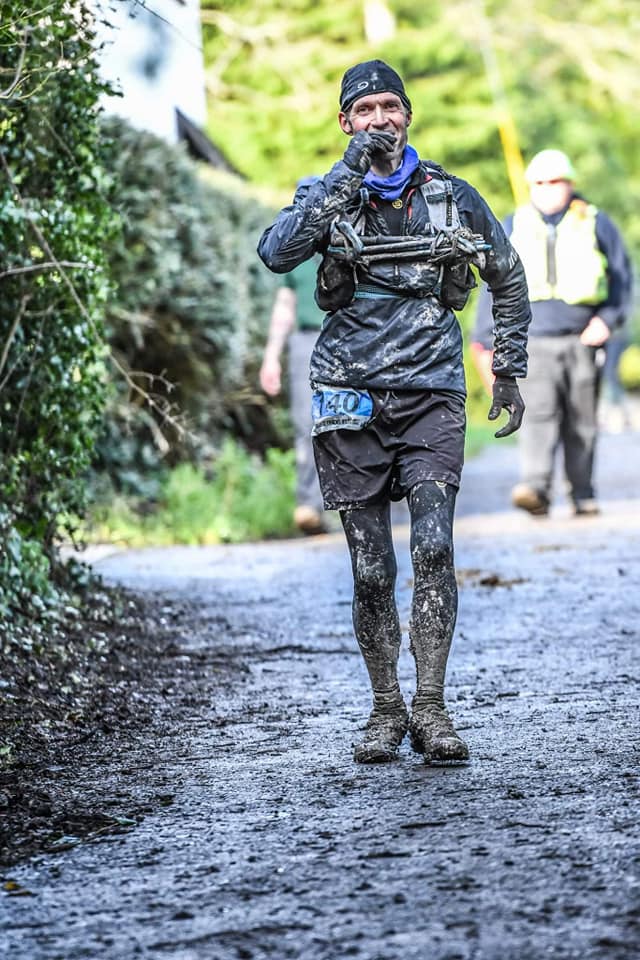 I'd kept a very consistent pace for most of the race but come my 16th lap I really dipped. Two of the three hills required an almost skiing like sliding technique to get down quickly which really hammered the quads. I came in at the end of the lap to be met by my family and my coach Michelle Maxwell. The officials then let me know that despite there still being 3 hours left I'd already won the race! I'd lapped everyone still in the race and no one could catch me. Ohhh the relief! I could have done another lap but that would have been so hard. I ended up doing just over 135Km with 4,400m of climbing.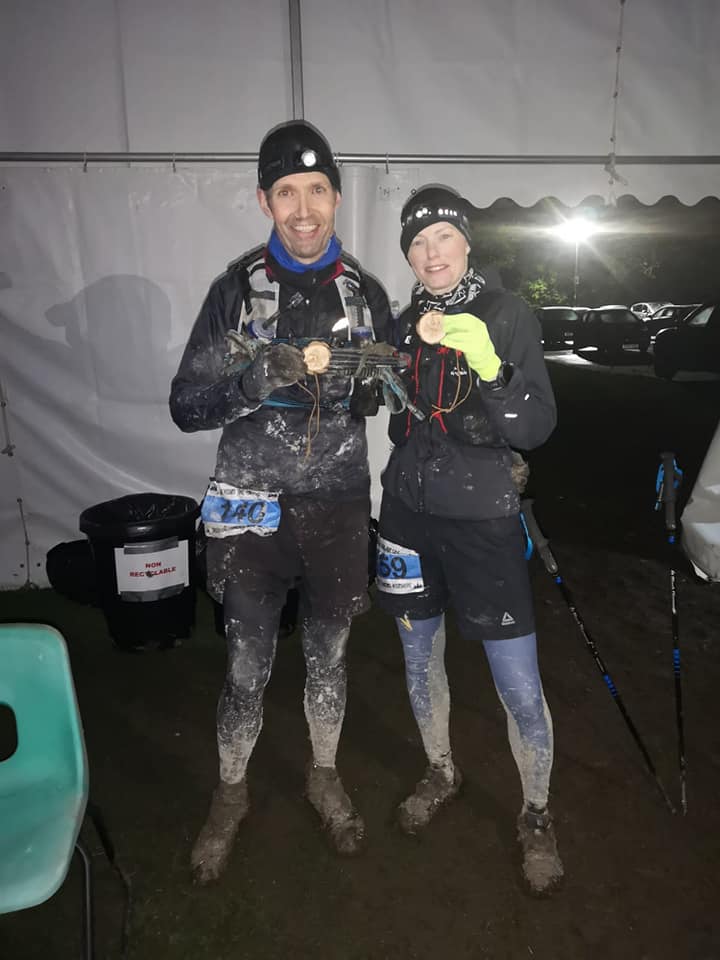 It was also great to have fellow Chippenham Harriers Running Club member and Maxwell Coaching athlete Karen Hacker taking 1st Lady and 3rd overall. She'd been on a similar training plan to me and we'd met very often in the preceding weeks while training on the course so it was great to see her efforts pay off.
It was such a satisfying win. My first race win since a cycling road race in 1999. I was only 33 then! I really had worked hard for it. Michelle of Maxwell Coaching had put together a very demanding training plan. I was running 110 to 140Km a week through December (115Km in the week of Christmas) and this wasn't gentle road running, it was nearly all wet, muddy and hilly runs much of which was in the dark. Big long runs of 4 to 6+ hours on Saturdays and Sundays and even 2 to 3 hours before work during the week. On top of that there was many hours of strength work and weighted vest hiking. The really important part of this is the support of family and particularly my very patient wife Dawn. Thank you!